Typical Repair Cost:
no data
Average Mileage:
89,500 miles
Total Complaints:
1 complaints
Most common solutions:
not sure

(1 reports)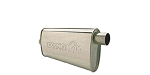 exhaust system problem
Search for Problems, Recalls & Defects
Helpful websites
No one has added a helpful site for this 2007 Camry Solara problem yet. Be the first!
A D V E R T I S E M E N T S
problem

#

1
Camry Solara SE Sport 3.3L V6
Automatic transmission
89,500 miles
The rear heat shield rusted away and was lying on the muffler last December, which made a hell of a racket. Now the forward heat shield has rusted away and is resting on the exhaust pipe - and this is making a nasty racket. The heat shields themselves are made out of the thinnest, cheapest metal possible....you'd think for a car costing $27,096.00 they'd use a slightly heavier gauge stainless steel piece for a heat shield? Afterall, it's only on the underside of the the car - which gets blasted with water, salt, and assorted road crud.....

Complaints to Toyota have gone unanswered.....if this is the stellar service the "King of Quality" offers, consider buying a domestic model.....at least with GM, Ford, or Chrysler, you can expect an average model as well as to be jerked around by the manufacturer & dealer. I was considering a Tacoma, but the Colorado is looking a lot more promising.....
We have partnered with JustAnswer to offer online auto repair help and advice from expert professional automotive technicians. You describe your exhaust system problem or ask your question and they try to help you figure it out. The fee is typically $9 to $15, but you can offer to pay more for really tough questions. You will usually receive an answer in 10 minutes or less, and you do not have to pay anything unless you accept the answer.