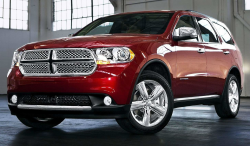 — If you own a Chrysler vehicle and have never heard of a Totally Integrated Power Module, you might get used to seeing the initials, TIPM. A defective TIPM can cause a car to lose its electrical power, keep the car from starting, cause the fuel pump to constantly run and cause a car to stall.
Chrysler has already been hit with a class-action lawsuit alleging defective TIPMs in 16 models of cars, trucks and SUVs.
Additionally, the Center for Auto Safety filed a petition with the National Highway Traffic Safety Administration asking for an official TIPM investigation of about 7 million Chrysler vehicles.
Maybe the negative attention got the attention of Chrysler as it announced a recall of almost 189,000 model year 2011 Dodge Durango and Jeep Grand Cherokee SUVs. The affected vehicles were manufactured January 5, 2010, through July 20, 2011, and equipped with a 3.6L or 5.7L engine.
Chrysler says the fuel pump relay inside the TIPM can fail and cause the same problems many Grand Cherokee and Durango owners have complained about for years.
The vehicles can temporarily or permanently:
Not start the first time
Not start at all
Fail to keep running once started
Have fuel pumps that won't shut off
Stall
Once the vehicle stalls all power will be lost, including to the air bags.
The recall should start on October 24, 2014. Chrysler dealers will replace the fuel pump relay but instead of it being inside the TIPM, the new relay with be located outside the TIPM.
Owners of the 2011 Dodge Durango and Jeep Grand Cherokee can call Chrysler at 800-853-1403 and reference recall number P54.