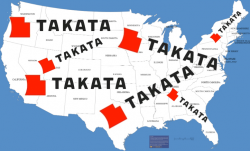 — Takata, the maker of air bags that have caused the recalls of million of vehicles, has announced a recall of model SPI, PSPI, and PSPI-L passenger frontal air bag inflators. Takata didn't name the automakers affected by the recall, but the air bag maker said the defective inflators were manufactured April 13, 2000, to July 31, 2004.
However, the recall involves only vehicles originally sold, or currently registered in areas with high absolute humidity.
Takata names the areas as Puerto Rico, Hawaii, the U.S. Virgin Islands, Guam, Saipan, American Samoa, Florida and adjacent counties in southern Georgia, as well as the coastal areas of Alabama, Louisiana, Mississippi and Texas.
The metal inflators have been linked to at least five deaths that occurred when the air bags exploded and sent shards of metal flying into the occupants.
Government Wants Nationwide Takata Air Bag Recall
The recall comes the same day the U.S. National Highway Traffic Safety Administration (NHTSA) called for a nationwide recall of all vehicles with driver's side Takata air bags. While many automakers and Takata have ordered regional recalls based on areas of high absolute humidity, NHTSA said its decision is based on an incident outside those areas.
NHTSA said unless Takata and the auto manufacturers quickly agree to a national recall, NHTSA will use all its statutory powers to make sure the vehicles are recalled.
NHTSA seems to be taking the issue seriously after the beating it has taken over its alleged failures in the GM ignition switch disaster.
The agency has issued a general order to Takata and all 10 manufacturers that use Takata air bag inflators, including BMW, Chrysler, Ford, General Motors, Honda, Mazda, Mitsubishi, Nissan, Subaru and Toyota.
The order requires each automaker to file, under oath, all reports and documents related to testing of Takata inflators outside the current regional recall areas. Additionally, NHTSA issued a separate order for Takata to turn over all documents and information about the propellant used in the air bag inflators.
Takata has said the metal inflators can explode for various reasons, but a recent change in the chemical composition of Takata's propellant mix used in the inflators got the attention of NHTSA.
Takata and each automaker must respond to NHTSA's orders by December 5, 2014, or else face hefty daily fines.
Takata's legal team will be busy a long time as the air bag maker discovered just days ago it's under a U.S. criminal investigation over exploding air bags.