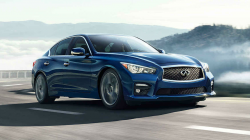 — About 60,000 Infiniti Q50 sedans will be recalled worldwide to fix possible problems with the autonomous driving systems. Nissan, parent company of Infiniti, didn't say which model years are involved but the cars are located from China to the U.S.
The National Highway Traffic Safety Administration (NHTSA) hasn't released details of the Q50 recall, but the problem is apparently the steering system key that can malfunction and cause the self-driving capabilities to have problems with the steering. Infiniti says problems could also occur to the turning radius of the cars due to a software problem in the systems.
The automaker says the problem typically occurs shortly after starting the Q50. However, no more will be known until the government announces the recall.
CarComplaints.com will update this page when NHTSA releases details about the Infiniti Q50 recall.
Have a complaint about your Infiniti vehicle? Add your complaint here, about any vehicle.
CarComplaints.com has owner-reported complaints about the Infiniti Q50 and other Infiniti models.