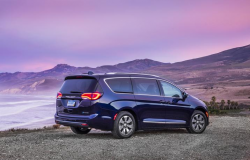 — Fiat Chrysler (FCA US) is recalling nearly 1,700 model year 2017 Chrysler Pacifica Hybrid minivans because customers are complaining about diodes that fail and cause the minivans to stop moving.
Chrysler received reports in February about two minivans that experienced failures of the diodes in the power inverter modules at an assembly plant, then another report arrived in March.
Between May 1 and May 12, six more Pacificas experienced diode failures, and by June 2 another four minivans went down due to the same problems. That was enough to cause the automaker to order the recall.
Although the Pacifica Hybrid minivans could stop moving, Chrysler doesn't know of any crashes or injuries related to the problem.
About 1,368 of the minivans are in the U.S. and another 309 are located in Canada.
The recall is expected to begin on July 24, 2017, but Chrysler hasn't figured out how to best fix the minivans.
However, if you own a 2017 Chrysler Pacifica Hybrid and have questions or concerns, contact Chrysler at 800-853-1403. The Pacifica recall number is T34.
Read what owners say about their Chrysler Pacifica and Chrysler Pacifica Hybrid minivans.