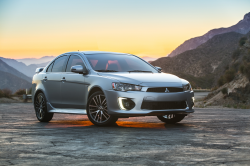 — Mitsubishi is recalling about 133,000 Lancers and Outlanders because welding problems caused defective relays that can fail and cause engines to overheat and stall.
The 2015-2017 Mitsubishi Outlander, 2015-2016 Lancer and Outlander Sport and 2015 Lancer Evolution are affected and will need the defective relays replaced.
In July 2015, Mitsubishi received a report in Japan about a stalled engine and illuminated engine warning light, something that convinced engineers to investigate what caused the problem. However, the automaker couldn't determine the root cause of the stalled engine.
Then in April 2016, the automaker received another report, this one from Israel, about a customer complaining that the relay for the valve lift control was melted on a Lancer vehicle.
From June 2016 to September 2017, Mitsubishi investigated parts, warranty data and maintenance records. In addition, the relay supplier took a look at the manufacturing process and tried to duplicate the problems.
But it was finally Mitsubishi that determined a welding machine at the supplier wasn't maintained properly, causing intermittent welding problems of the relays.
There are various symptoms based on which relays are affected:
If the relay for the engine control unit fails, the engine will stall while driving and cannot be restarted.
If the relay for the engine valve lift control fails, the engine warning light will illuminate and fail-safe mode will be activated and limit engine power.
If the relay for the radiator fan fails, the engine coolant temperature will rise, the coolant temperature warning light will kick on and the engine may overheat and stall.
The relay recall will begin November 28, 2017. Mitsubishi dealers will replace any relays affected by welding problems, but owners with questions are free to contact the automaker at 888-648-7820 and refer to recall number SR-17-005.
CarComplaints.com has complaints about the Mitsubishi Lancer, Mitsubishi Lancer Evolution, Mitsubishi Outlander and Mitsubishi Outlander Sport.