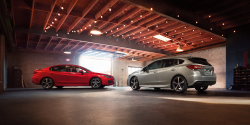 — The 2017 Subaru Impreza is recalled for the second time in about five weeks, this time involving more than 33,000 Impreza cars that can stall because of a lack of fuel pressure.
Subaru blames the problem on winter fuels used in North America that may vaporize prematurely in the fuel lines, causing a loss of fuel pressure.
The fuel may begin to vaporize in the fuel line under higher ambient temperatures, at low speeds or while the car is stopped. Premature vaporization causes a decrease in fuel pressure which may result in rough idling, the inability to start the engine or engine stall.
Stalling engines are bad enough, but the automaker says the cars may need to be parked a while before they can be re-started.
Subaru opened an internal investigation in January after receiving a report about a 2017 Impreza that was having trouble with engine stall and rough idling. Subaru collected parts from several Imprezas and engineers traced the problem to the radiator fan controls, then they determined the software in the electronic control units needed to be corrected to properly regulate the radiator fans.
The root cause of the problem is a software programming error in the electronic control unit which runs the radiator fan. Subaru says the unit is not set to a low enough temperature for using winter fuels, something a driver may first notice by seeing an engine warning light or experiencing a rough idle.
Subaru doesn't know when the 2017 Impreza recall will begin, but dealers already know they must reprogram the engine control units to turn the radiator cooling fans on at a lower temperature.
If you own a 2017 Subaru Impreza and have concerns, please call the automaker at 800-782-2738 and ask about recall number WTP-75.
It was only about five weeks ago that Subaru recalled the 2017 Impreza for a different problem, this one involving the display screens used for the rear-view cameras.
CarComplaints.com has owner-reported complaints about Subaru Impreza compact cars.