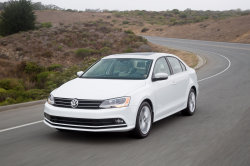 — The 2017 Volkswagen Jetta is recalled, at least for two vehicles somewhere in the U.S.
VW says the two Jettas are equipped with 1.4-liter engines that can seize due to an improper casting of the blocks. A driver will have a tough time controlling the Jetta if the wheels suddenly lock up while driving at highway speeds.
Volkswagen is giving two choices to the two owners (or one owner if they own both Jettas): VW will replace the engine block in the vehicle or buy back the vehicle. However, Volkswagen didn't say what will be paid for the new Jetta.
No recall schedule has been announced, but if you believe you own one or both the vehicles, call VW at 800-893-5298 and use recall number 10F4.
CarComplaints.com has complaints about the Volkswagen Jetta and numerous other VW models.