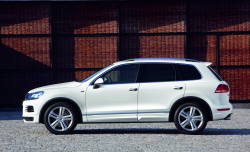 — Volkswagen has ordered two recalls involving Audi and VW vehicles with problems related to fuel filters and seat belt retractors and pretensioners.
Volkswagen Touareg Recall
Nearly 21,000 model year 2007-2010 VW Touareg SUVs are recalled, all with fuel filter flanges that may crack and allow fuel to leak out, leading to the possibility of fires.
The National Highway Traffic Safety Administration contacted Volkswagen about consumers making complaints about leaking gas. The automaker researched data and found numerous similar complaints and engineers determined cracks can form in the fuel filter flange, allowing gas to leak.
Investigators found that with time, oxidization can weaken the components and allow the components to intrude into the fuel filter flange material under pressure from the inside. In addition to the pressure, tension can cause the formation of small cracks where the fuel will eventually leak.
The recall should begin in May 2017, when dealers will inspect the fuel filter flanges for cracks. The fuel filter flanges will be replaced if cracks are discovered, and separately dealers will install protective covers to the fuel filters to prevent cracks from forming.
If you own a 2007-2010 VW Touareg and have questions, call Volkswagen at 800-893-5298 and refer to recall number 20Z4.
Audi A5 Cabriolet, S5 Cabriolet Recall
Audi is recalling more than 1,670 model year 2017 Audi A5 Cabriolet and S5 Cabriolet vehicles to fix problems with the front and rear seat belts, or more specifically, the seat belt retractor pretensioners.
Audi says those pretensioners are manufactured by Autoliv and due to a manufacturing problem, the micro-gas generator within the pretensioner could detach during a crash and become a dangerous projectile.
The automaker says the affected parts made by Autoliv have been installed in other Audi models, but only in the A5 Cabriolet and S5 Cabriolet can the micro-gas generator enter the passenger compartment and injure people.
Audi dealers will replace the seat belt retractors and pretensioners once the recall begins in May 2017.
Owners of recalled 2017 Audi A5 Cabriolet and S5 Cabriolet vehicles may call Audi at 800-253-2834 and use recall number 69O8.
CarComplaints.com has complaints about the Volkswagen Touareg, Audi A5 and Audi S5 vehicles.