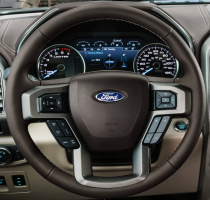 — A Ford Canada fuel economy class action lawsuit has been filed in Ontario on behalf of 2019 Ford Ranger and 2018-2019 Ford F-150 truck owners.
According to the lawsuit, Canadian truck owners are driving vehicles that don't get the fuel economy Ford advertised.
Plaintiff Paul Robinson purchased a 2018 Ford F-150 4x4 Supercrew in October 2018 from a Ford dealership in Ontario.
According to the lawsuit, Ford tests fuel efficiency by putting the trucks on machines similar to treadmills called dynamometers that simulate real-world driving. But accurate results can only be reached if the machines are properly programmed, especially concerning the correct amount of drag and resistance.
The level of drag and resistance on the dynamometer is adjusted based on a truck's "road load" which represents the forces on a vehicle when driving.
The lawsuit describes road load as calculated through a process called "coastdown testing" in which the truck is pushed to a specific speed before it is put into NEUTRAL and allowed to coast until the speed drops. The test is conducted multiple times to eliminate the effects of wind speed and direction.
However, Ford allegedly manipulated the coastdown testing which then provided faulty road load results and caused incorrect fuel economy estimates.
The lawsuit also alleges testing conducted in Canada is the same as the U.S. where multiple class actions have been filed. The process was triggered by a report Ford sent to the U.S. Securities and Exchange Commission (SEC) concerning a possible problem with the emissions certification process.
Ford employees reported possible irregularities in September 2018 which caused the automaker to open an investigation.
Although the lawsuits allege the trucks were sold with incorrect window stickers, Ford said there was no evidence so far that fuel economy labels were wrong. But the Canadian plaintiff claims the labels were wrong and customers have spent 10-15% more on fuel than they would have if Ford wouldn't have allegedly lied.
The Ford Canada fuel economy class action lawsuit was filed in the Ontario Superior Court of Justice - Paul Robinson, v. Ford Motor Company, et al.
The plaintiff is represented by Siskinds LLP.