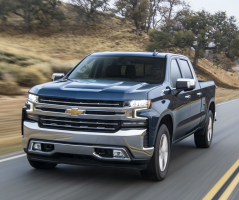 — General Motors of Canada is recalling more than 159,000 Silverado and Sierra trucks equipped with power sliding rear windows because the rear defroster circuits could overheat and catch fire.
2014-2018 Chevrolet Silverado
2015-2019 Chevrolet Silverado HD
2014-2018 Chevrolet Silverado LD
2014-2018 GMC Sierra
2015-2019 GMC Sierra HD
2014-2018 GMC Sierra LD
GM says even if fires don't occur, the rear defroster circuits may melt and emit smoke, and the automaker isn't sure what dealerships will do to repair the problems.
Interim repairs will be performed by removing the fuses for the rear window defrosters, then truck owners will be sent second notices when final repairs are available.
Canadian Silverado and Sierra customers may call 800-263-3777.
CarComplaints.com will update this page if more details are released.