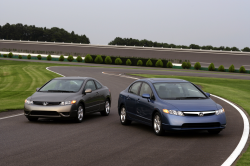 — Honda is recalling nearly 1.3 million vehicles to replace Takata airbag inflators, with some of those for vehicles already included in prior Takata airbag recalls. Honda says about 772,000 of the recalled vehicles have never been recalled in the U.S. to replace passenger-side airbag inflators.
The automaker says the recall involves Takata airbag inflators that don't contain a dessicant, a chemical used to absorb moisture. It's moisture that is the main enemy of ammonium nitrate, the propellant used to deploy the airbags in a crash.
Due to age, heat and humidity, the metal airbag inflators can explode and send hot sharp pieces of metal into vehicle occupants.
Included in the recall are the following Acura and Honda vehicles:
2005-2006 Acura MDX
2005-2012 Acura RL
2009-2012 Acura TSX
2011-2012 Acura TSX Wagon
2010-2012 Acura ZDX
2008-2012 Honda Accord
2010-2012 Honda Crosstour
2006-2011 Honda Civic
2005-2011 Honda CR-V
2005-2011 Honda Element
2012 Honda FCX Clarity
2007-2012 Honda Fit
2010-2012 Honda Insight
2005-2012 Honda Pilot
2006-2012 Honda Ridgeline
With this latest announcement, Honda has now recalled about 11.4 million vehicles to replace Takata airbags, and this latest recall even includes airbags for 2006-2009 and 2012 Honda Gold Wing motorcycles. Although no Honda motorcycle airbags have exploded, the same can't be said for Honda passenger vehicles in the U.S. and overseas.
To date, the vast majority of deaths and injuries from ruptured Takata airbags have occurred in Honda cars. The disaster caused the automaker to take extreme measures to convince customers to get their cars repaired, including by sending employees to knock on the doors of customers.
Honda didn't say more about the Takata airbag recall other than mailed notifications will begin by the end of February 2017.
Owners with questions should call 888-234-2138 or visit www.recalls.honda.com or www.recalls.acura.com.