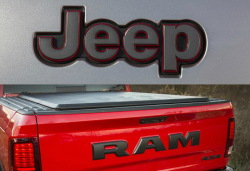 — You will soon be able to legally buy a new 2017 Ram 1500 truck or Jeep Grand Cherokee SUV after the Environmental Protection Agency (EPA) and the California Air Resources Board (CARB) gave Fiat Chrysler (FCA US) the green light to sell the vehicles.
Chrysler halted sales and production of the 2017 trucks and SUVs when the EPA and CARB issued notices of emissions violations to FCA for violations of the Clean Air Act.
The EPA and CARB accused Chrysler of installing and concealing "auxiliary emission control devices" (AECDs) in about 104,000 model year 2014-2016 Jeep Grand Cherokees and Ram 1500 pickup trucks, which also left model year 2017 vehicles without certification.
Automakers must go through a certification process showing their vehicles meet federal emissions standards and part of the process requires automakers to explain and disclose any software that may alter how vehicles emit air pollution.
An AECD is legally allowed under very limited circumstances such as when a vehicle faces driving conditions so extreme the engine can be damaged but should never activate when the vehicle is undergoing any kind of emissions testing.
Chrysler filed an application to update emissions software in the Jeep Grand Cherokee SUVs and Ram 1500 trucks, but days later the EPA sued FCA over violations of the Clean Air Act. Prosecutors claim Chrysler used eight of the devices that were never disclosed before the vehicles were certified.
The EPA says the software decreases emissions controls during "normal driving" situations that results in the vehicles passing tests on machines. However, once back on the road, the trucks and SUVs allegedly emit nitrogen oxides at levels beyond legal EPA limits.
The automaker says the modified emission software fixes any alleged problems with the vehicles and does it without requiring any changes to hardware, and allegedly won't have a negative impact on fuel economy or power. However, Chrysler still needs to receive permission to use the modified software on 2014-2016 models, and questions still remain about how this latest action will impact the federal lawsuit.
From the beginning, Chrysler denied there were any legal issues with the trucks and SUVs because the devices were never installed to fool customers or regulators.