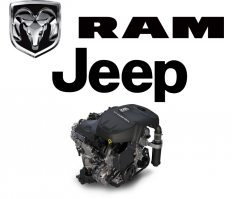 — Fiat Chrysler (FCA US) wants away from any potential charges from the U.S. Justice Department over illegal emissions, so the automaker has formally filed an application to update emissions software in Jeep Grand Cherokee SUVs and Ram 1500 trucks.
Word has been floating around that U.S. prosecutors were on the verge of filing suit against Chrysler after environmental regulators accused FCA of using illegal emissions software in 104,000 vehicles.
In January 2017, the Environmental Protection Agency (EPA) and the California Air Resources Board (CARB) issued notices of emissions violations to Fiat Chrysler for alleged violations of the Clean Air Act.
Environmental regulators say Chrysler installed and then concealed engine management software in about 104,000 model year 2014-2016 Jeep Grand Cherokee SUVs and Ram 1500 trucks equipped with 3-liter diesel engines.
Calling them "auxiliary emission control devices," the EPA and CARB says the illegal devices were discovered after regulators started testing vehicles from various automakers due to the mess created by Volkswagen.
Chrysler says the devices are perfectly legal and allowed in the U.S. to help protect the Jeep and Ram engines in extreme driving conditions, and trying to compare the Volkswagen situation to Chrysler is "nonsense."
However, in its notice of violation, the EPA says it can prove FCA concealed the devices that cause the SUVs and trucks to emit different emissions levels based on normal driving conditions compared to conditions in a lab setting.
Since January, Chrysler says it has provided documents to federal regulators that explain the legality of the emissions systems, but the emissions controls could be changed and new software could be used, if necessary, to pacify the government.
The emissions problems caused delays in the certification of model year 2017 Ram 1500 and Jeep Grand Cherokee vehicles, so the automaker updated the emissions software calibrations and filed an application to certify the trucks and SUVs.
FCA says those same emissions modifications can be performed on the 2014-2016 trucks and SUVs, but the automaker needs the blessing of regulators to update the vehicles.
Chrysler says it hopes the offer to repair the vehicles will help put an end to the talk of litigation from the Department of Justice and other government agencies.
According to the automaker, if given approval, dealers will start updating the software systems in the Ram 1500 and Jeep Grand Cherokee vehicles to improve emissions performance without harming fuel efficiency or power.
In addition to what is happening with the government, Fiat Chrysler has already been sued over EcoDiesel engines in Ram 1500 and Jeep Grand Cherokee vehicles.
The 2016 class-action lawsuit includes 150,000 model year 2014-2016 Ram 1500 EcoDiesel and 2014-2016 Jeep Grand Cherokee EcoDiesel vehicles that allegedly cost $4,700 more than normal because of "clean" emissions technology.
CarComplaints.com has complaints from owners of Jeep Grand Cherokee SUVs and Ram 1500 trucks.