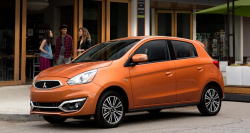 — Mitsubishi says more than 580 Mirage subcompact cars are recalled to prevent consumers from adjusting the headlights horizontally. The 2017 Mirage cars are equipped with high intensity discharge (HID) headlights that may be missing lockout clips used to adjust the headlights.
That little mistake is a violation of federal safety standards because a headlight that has a lower beam must not have a horizontal adjustment mechanism. The concern is a consumer will adjust the headlights to the point of affecting how a driver sees the road at night, or possibly adjust the headlights and cause oncoming drivers to have trouble seeing.
Mitsubishi says horizontal adjustment locking clips should be secured after the headlights have been installed onto the vehicle so that no further adjustments can be made. The automaker says the problem was caused when the supplier shipped the parts without the clips secured.
Two types of headlights (HID and halogen) are available for the 2017 Mitsubishi Mirage but the HID horizontal adjustment locking mechanism is different from those on Halogen headlights. Mitsubishi found that some assembly workers were not told how to secure the horizontal adjustment locking clips on the HID headlights.
The recalled 2017 Mitsubishi Mirage cars with HID headlights were built October 28, 2015, to August 4, 2016.
Because Mitsubishi doesn't want you adjusting your own headlights, dealers will need to secure the horizontal locking clips but the automaker doesn't know when that will happen.
Owners of the 2017 Mitsubishi Mirage who have questions should call 888-648-7820 and ask about recall number SR-16-008.
Recalls to block consumers from adjusting their headlights aren't common but they do occur. In August 2016, Mercedes-Benz recalled more than 9,100 cars because owners could change the horizontal adjustment of the headlights.