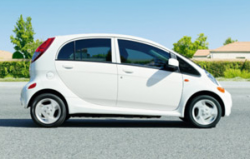 — Mitsubishi is recalling certain model year 2012 i-MiEV electric vehicles because the air bags may not work.
Mitsubishi says the affected vehicles were manufactured between November 4, 2011, and December 22, 2011.
According to documents on the National Highway Traffic Safety Administration website, an error between the air bag sensors and self-diagnostic software can make the front and side air bags useless in a crash.
Mitsubishi said your dealer will replace the air bag sensors, but Mitsubishi didn't provide a date when the recall will begin.
Owners may contact Mitsubishi at 1-800-222-0037 and refer to recall number SR-12-003.
Until then, watch your SRS warning light because if it comes on, your air bags won't work.