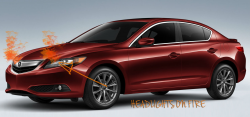 — Honda is already dealing with 2 million recalled vehicles because the air bags could explode during a crash, and now 14,078 Acura cars need to be fixed because headlights could catch on fire.
Honda says the affected cars are the 2013-2014 Acura ILX and ILX Hybrids, but only those with specific manufacturing dates.
The 2013 Acura ILX cars were built January 16, 2012, to March 1, 2013, and the 2013 ILX Hybrids were manufactured January 12, 2012, to February 7, 2013.
The 2014 Acura ILX was manufactured May 2, 2013, to May 31, 2014, and the 2014 ILX Hybrid cars were manufactured October 18, 2013, to February 19, 2014.
Honda says when the engine is running and the low-beam headlights are on for a long period of time, the lights could catch on fire because heat can't escape from the headlight assembly. Honda blames it on the original headlight design that has already caused at least one fire, although no accidents or injuries.
Even if a fire doesn't occur, the heat around the headlight bulb and reflector unit can cause the headlights to weaken and not provide the needed output.
The recall is expected to begin on July 28, 2014. Honda/Acura dealers will replace the halogen projector beam headlights. Affected Acura ILX owners can contact Acura customer service at 800-862-2872 and give them recall number JE9.