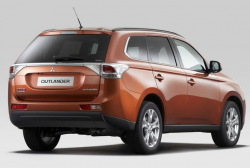 — Days after recalling only five model year 2007 and 2009 Outlanders for transmission problems, Mitsubishi is recalling 203 Outlanders because of power steering problems. The recalled vehicles are the 2013 Outlander equipped with a 6-speed automatic transmission and certain 2007-2012 Outlanders that received replacement 6-speed automatic transmissions during servicing.
Mitsubishi says the vehicles don't have enough space between the power steering pressure tube and the converter housing of the automatic transmission. The tube can develop a hole because of rubbing against the converter housing and cause the power steering fluid to leak. No power steering fluid means no power steering.
The National Highway Traffic Safety Administration hasn't said when the Outlander recall will begin. Mitsubishi says dealers will replace two tubes: the power steering pressure tube and return tube.
If you own one of the recalled Mitsubishi Outlanders and have questions, call customer service at 888-648-7820 and give them recall number SR-14-006.