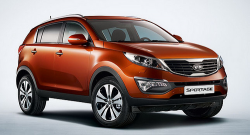 — Mitsubishi is recalling 5 (that's five) model year 2007 and 2009 Outlander vehicles for transmission problems. The automaker says the Outlanders were repaired with replacement transfer case assemblies with an oil seal that can come out of position.
A dislodged oil seal means transmission fluid could leak into the transfer case and cause transmission failure. Even if the transmission keeps going, the ability to shift gears could be greatly reduced.
The recall should start in August 2014. Mitsubishi dealers will replace the transfer assembly in the affected Outlanders.
Owners can contact Mitsubishi customer service at 888-648-7820 and give them recall number SR-14-005.