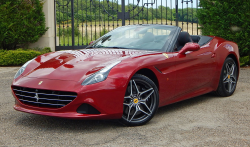 — About 185 model year 2016 Ferrari California T cars have low pressure fuel lines that might not be connected properly to the fuel pump feed pipes.
The $200,000 cars have parts that weren't manufactured properly by a supplier. The automaker says the loose low pressure fuel line can cause gas to leak and possibly cause a fire.
The recalled 2016 California T vehicles were manufactured September 8, 2015, to November 11, 2015.
Ferrari says it has already notified all 185 owners to bring the cars in to have the low pressure fuel line assemblies replaced.