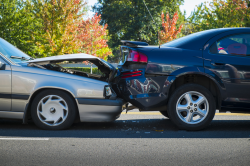 — Automatic emergency braking reduces rear-end crashes by 39 percent on average, based on research conducted by the Insurance Institute for Highway Safety (IIHS).
The Institute also found automatic emergency braking greatly reduces injuries and if the technology would have been available in 2013, there would have been at least 700,000 fewer rear-end crashes that year.
The study of front crash prevention technologies will continue to grow as the systems continue to impress researchers. IIHS has studied the subject more than any organization, but this is the first time researchers studied the effectiveness of the technology by using crash data from police reports.
Front crash prevention systems vary based on the complexity of the systems. Forward collision warning systems provide a warning of an imminent frontal crash and depend on a driver to intervene. With automatic emergency braking (autobrake), a driver is warned of an imminent forward crash and if the driver doesn't take action, the computer will intervene and apply the brakes.
Based on the manufacturer and model of car, automatic emergency braking systems will use radar, cameras or lasers to detect a forward crash.
Automatic Emergency Braking: Less Accidents, Less Injuries
For the study, researchers looked at police-reported rear-end crashes in 22 states during 2010-14 involving Acura, Honda, Mercedes-Benz, Subaru and Volvo vehicles with optional front crash prevention systems. The crash rates of vehicles equipped with the technology were compared with the crash rates of the same models without front crash prevention.
IIHS conducted a separate analysis of a system called City Safety, Volvo's standard low-speed automatic emergency braking technology.
Although forward collision warning alone reduced rear-end crashes by 23 percent and autobrake reduced them by 39 percent, the Volvo City Safety system reduced crashes by 41 percent.
Another important discovery concerns injuries from rear-end collisions. Forward collision warning systems, the systems that require driver intervention, only caused a 6 percent decrease in rear-end injury crashes, a percentage that isn't statistically significant.
However, the rate of rear-end crashes with injuries decreases by 42 percent with forward collision warning with automatic emergency braking and 47 percent with Volvo's City Safety.
Safety researchers say automatic emergency braking can help reduce injuries even if the technology doesn't completely prevent a rear-end crash. If the system can't completely prevent a crash, at least injuries will be less severe because the system will reduce the impact speed.
Consumers can expect to see automatic emergency braking technology in the news more often as 10 automakers have voluntarily agreed to make the systems part of the standard features in new vehicles.