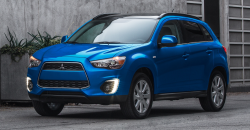 — Mitsubishi is recalling nearly 195,000 Outlander and Outlander Sport SUVs because of windshield wiper problems, but the automaker made a note to separate the wiper problems into two recalls based on different causes of the wiper failures.
Mitsubishi says about 95,000 model year 2011-2015 Outlander Sports and 100,000 model year 2007-2013 Outlanders need repairs to keep the windshield wipers functioning.
Mitsubishi Outlander Recall
Mitsubishi says 2007-2013 Outlanders have wipers that can fail because water may enter between the hood and windshield and cause corrosion of the wiper link ball joint.
The problem was first noticed in 2010 when Mitsubishi received a complaint from Japan about wipers that quit working, something that caused the automaker to investigate and determine the wiper link ball joint had corroded.
However, Mitsubishi couldn't find what caused the corrosion, so from 2010-2015 the problem was monitored in the field, but only 10 cases were known.
Engineers continued to investigate the problem and finally found that deterioration of the front deck garnish could allow water to intrude into the rubber boot and cause the wiper link ball joint to corrode.
Mitsubishi says water can reach the area as it flows along the backside of the garnish and drops on the wiper link, entering the rubber boot which covers the ball joint.
The recalled Outlander SUVs were built September 8, 2006, to March 29, 2013.
Mitsubishi doesn't know when the recall will begin, but dealers will need to replace the rubber boot on the ball joint to protect the components from water. Dealers will also inspect the wiper motor crank arm for excessive play and replace it if needed.
Mitsubishi Outlander Sport Recall
The remaining 95,000 recalled SUVs also have wiper problems, but the cause of the problem is different. Mitsubishi says the 2011-2015 Outlander Sports have wiper motors that can fail due to water that drops between the hood and the windshield. The water can leak into the breathing hole of the wiper motor and cause corrosion inside the wiper motor.
The 2011-2015 Outlander Sport SUVs were built August 26, 2010, to January 5, 2015, and all need their wiper motors replaced. However, Mitsubishi doesn't know when that will happen.
Owners of the Outlander and Outlander Sport SUVs may call 888-648-7820. For the Outlander recall use number SR-16-009 and for the Outlander Sport, refer to recall number SR-16-010.
CarComplaints.com has complaints about the Mitsubishi SUVs named in the windshield wiper recalls: