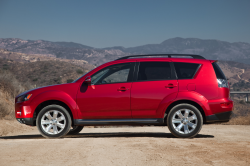 — Mitsubishi is recalling more than 100,000 model year 2007-2013 Outlander SUVs with windshield wiper motors that can fail and cause the wipers to stop working.
According to the automaker, water can fall between the hood and the windshield and leak into the wiper motor breathing hole.
Mitsubishi says water can drop down onto the front wiper motor through a gap between the front deck garnish (the body piece between the hood and windshield) and the front windshield.
If this occurs, water could potentially collect in the area of the wiper motor breathing hole. The water can also directly enter the wiper motor through the breathing hole and cause internal corrosion and electrical failures. This could occur especially when driving in heavy rain, the very time you don't want the windshield wipers to suddenly fail.
The recall begins today, July 28, 2017. Mitsubishi dealers will replace the wiper motors in the Outlanders, but owners with questions should call 888-648-7820 and make reference to recall number SR-17-003.
Mitsubishi Outlander owners are familiar with windshield wiper problems as the automaker has recalled nearly 200,000 SUVs in the past for the same and similar defects. In November 2016, Mitsubishi recalled the Outlander and Outlander Sport to fix two different issues that were causing the wipers to fail.
In the 2016 recall, Mitsubishi recalled 100,000 model year 2007-2013 Outlanders with windshield wipers that failed because water was entering between the hood and windshield, causing corrosion of the wiper link ball joints.
Another 95,000 model year 2011-2015 Outlander Sports were recalled because wiper motors were failing due to water that dropped between the hoods and the windshields into the breathing holes of the wiper motors, again causing the motors to corrode.
Read what owners tell CarComplaints.com about Mitsubishi Outlanders:
Mitsubishi Outlander Complaints - 2007 / 2008 / 2009 / 2010 / 2011 / 2012 / 2013 / All model years