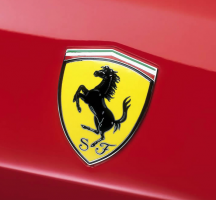 — Ferrari is recalling more than 1,500 model year 2012 Ferrari California, 458 Italia, 458 Spider and FF vehicles nationwide to replace Takata airbags.
Only vehicles that haven't had their passenger frontal airbags replaced are included in the recall. As with tens of millions of other Takata airbags, the same problem affects the Ferrari vehicles.
The passenger airbags could explode in a crash because the propellant (ammonium nitrate) inside the metal airbag inflators can degrade over time.
Long-term exposure to heat and humidity causes the propellant to degrade, resulting in an unstable explosive chemical.
Ferrari will replace the front passenger airbag assembly with a new inflator that doesn't contain ammonium nitrate. This is expected to be the final Takata passenger airbag recall for the Ferrari models.
The automaker didn't say when the recall will begin, but owners with questions should call 201-816-2668 and ask about Ferrari's recall number 61.