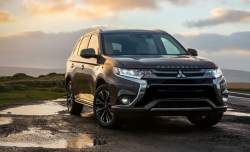 — Mitsubishi is recalling nearly 59,000 Outlander and Eclipse Cross SUVs for problems with numerous safety systems.
2018 Mitsubishi Outlander Sports equipped with forward collision mitigation systems.
2018 Mitsubishi Outlander PHEV and Eclipse Cross SUVs equipped with adaptive cruise control and/or electric parking brake systems.
2017-2018 Outlanders equipped with adaptive cruise control and/or electric parking brake systems.
The automaker says the automatic emergency braking, anti-lock braking, electronic stability control and brake auto hold safety features can fail to activate due to software errors.
Recall documents say incorrect software in the hydraulic unit engine control units can cause noise when the hydraulic unit pump motor operates.
Mitsubishi received a report in March 2017 concerning a warning message about the adaptive cruise control system but the automaker couldn't nail down the cause. More reports were received about the same problem and engineers finally replicated the problem only to fail at future attempts to reproduce the issues.
Working with the supplier, engineers with Mitsubishi determined incorrect software caused electrical noise from the pump motors which caused the hydraulic unit engine control units to reset.
According to the automaker, there have been no reported injuries or crashes because of safety system failures. However, about a week ago Mitsubishi recalled the same vehicles that may suddenly brake on their own.
The recall is expected to begin October 16, 2018. Mitsubishi dealers will update the affected software, but owners with questions should call 888-648-7820 and ask about recall number SR-18-008.
CarComplaints.com has owner-reported complaints about the Mitsubishi Outlander Sport, Outlander PHEV and Mitsubishi Eclipse Cross.