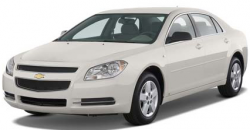 — At the same time that General Motors announced a recall on their newest Chevy Sonic, GM is recalling over 425,000 vehicles due to transmission-related problems.
GM said the recall involves certain model year 2007-2010 Saturn Aura vehicles, along with model year 2008-2010 Chevrolet Malibu and Pontiac G6 vehicles equipped with a 4-speed automatic transmission.
According to documents filed with the National Highway Traffic Safety Administration, the tabs on the transmission shift cable end can fracture and separate.
If this happens, the shift lever and the actual position of the transmission gear may not match. GM says the driver would be able to move the shifter to 'PARK' and remove the ignition key, but the transmission gear may not be in park.
This little problem could keep the vehicle from starting. On top of that, once you get out of the vehicle, it could just roll away on its own.
GM has not announced a schedule of when the recall will begin, and considering the number of vehicles involved, owners aren't going to have any fun with the process.
You'll need to make an appointment with your dealer to install a retainer over the cable end, or possibly even have to replace the shift cable. It won't cost you anything except your valuable time.
GM will send you an official notice but you can contact them now at 800-521-7300. Your recall number is 12106.