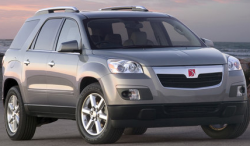 — The National Highway Traffic Safety Administration is checking into 2007-2009 Saturn Outlooks and GMC Acadias after receiving over 400 complaints about headlight problems.
As a Bayshore, New York, resident wrote to CarComplaints.com, "headlights are necessary to prevent crashes at night." How right they are.
According to that New Yorker and others, the headlights of the Outlooks and Acadias sometimes decide to take a break whenever they want, mainly at night.
The person who petitioned the feds for an investigation said the wiring harness inside the 2008 Saturn Outlook had melted because of overheating.
NHTSA hasn't decided to perform an official defect investigation and no recall has been announced. But carry a flashlight to be on the safe side.