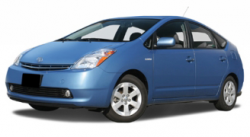 — The National Highway Traffic Safety Administration will determine if a federal investigation is needed after the agency was petitioned to look into alleged steering problems in the 2004-2009 Toyota Prius.
According to government documents, an auto lab in Virginia petitioned the government after the owner of a 2005 Prius complained his steering failed.
The lab said an inspection of the vehicle showed the steering column linkage had not been assembled correctly during manufacturing. Images show wear and corrosion on the splines at the base of the steering column and indicates partial engagement to the upper intermediate shaft coupler.
An investigation or recall could involve over 560,000 vehicles, but it hasn't reached that point yet.