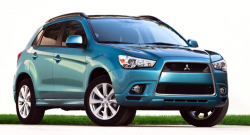 — Mitsubishi is recalling over 4,500 model year 2013 Outlander Sport vehicles because the brake lights and gear shifter may go wacky without notice.
Mitsubishi says the brake light switch might have been installed incorrectly. This could cause the brake lights to stay on all the time or work only part of the time.
The switch could also allow you to move the gear shifter out of "park" without using the brake pedal, which means an increased risk of the vehicle rolling away.
The recalled vehicles were manufactured June 11, 2012, through September 11, 2012. Mitsubishi didn't say when the recall will start, but owners can contact them at 888-648-7820 and mention recall number SR-13-004.
The Almighty Brake Light Switch
Apparently, a simple brake light switch has almighty power in vehicles today, to the point a bad switch can cause total havoc in your car.
In the past few days, Kia recalled over 623,000 vehicles because of a brake switch that could cause problems with the brake lights, cruise control, push-button start, gear shifter, and the electronic stability control light.
The same day Kia recalled their vehicles, Hyundai recalled over 1 million vehicles for the exact same problems.