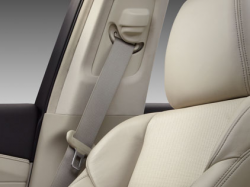 — Acura is recalling 43,000 cars because the front seat belts could literally freeze and fail to retract. About 7,000 model year 2014 RLX cars and 36,000 model year 2014-2015 MDX vehicles have the defect that could occur when the temperature drops below zero.
Acura hasn't released much information about what is causing the seat belts to fail in cold weather, but the automaker says the front seat belts in all 43,000 cars will need to be replaced.
Acura says it is unaware of any crashes or injuries related to the defective seat belts, but those seat belts won't do much good if they get stuck in a retracted position.
Owners of the 2014 RLX and the 2014-2015 MDX should watch for mailed notifications from Acura toward the end of October 2014. If needed, contact Acura at 800-382-2238 and select option 4.
CarComplaints.com will update this page when more recall information is available.