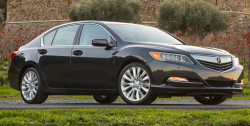 — Acura is recalling 9,700 RLX cars for problems related to the headlights, this just two months after Acura recalled the RLX for seat belt problems.
The headlight recall affects model year 2014-2015 RLX cars with reflective film material inside the headlight assemblies that can fall apart and peel away from the surface. This shouldn't cause the headlights to fail, but the headlights won't properly light the way if the reflective material is gone.
Acura says both the left and right headlight assemblies have the defect, so both assemblies will need to be replaced by Acura dealers.
The automaker plans on mailing recall notices in February 2015. Owners of the recalled 2014-2015 Acura RLX cars can call 800-382-2238 and choose option 4.