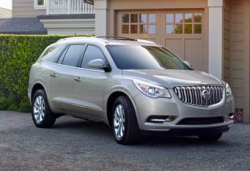 — General Motors is recalling over 50,000 model year 2014 Buick Enclave, Chevy Traverse, and GMC Acadia crossover SUVs because the gas gauge could be off at both the high and low end of the fuel range by as much as one quarter of a tank.
GM says the engine control module has a calibration problem that could give you the false reading and leave you stranded on the side of the road.
GM didn't waste any time ordering the recall. According to documents filed with the National Highway Traffic Safety Administration, a GM evaluation committee learned of the defect on April 14 and on April 22 a decision was made to recall the cars.
However, GM hasn't said when the recall will begin, but dealers will reprogram the engine control module to make sure the fuel gauge is accurate.
Owners can contact Buick at 800-521-7300, Chevy at 800-222-1020, and GMC at 800-462-8782. GM's number for this recall is 14007.