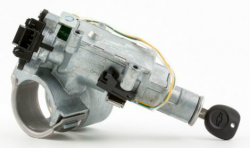 — General Motors has announced its previous recalls of 2.2 million cars for defective ignition switches will need additional ignition switch modifications.
GM says the new ignition switch will need ignition lock cylinders to make sure the cars don't roll away when parked. Additionally, GM says it's possible new keys will need to be reprogrammed.
Based on documents submitted to the National Highway Traffic Safety Administration, without the new lock the cylinder can allow the key to be removed while the engine is running. GM knows of one car that rolled away in a parking lot that caused a crash and injury.
The 2.2 million cars include the following:
Owners of manual transmission vehicles should make sure the ignition is in the "Off" position and in reverse gear with the parking brake set before removing the key. Vehicles with automatic transmissions should clearly be in "Park" before removing the key.
GM is again warning customers that until the cars are repaired, nothing but the key itself should be near the ignition switch. That means no key ring, no key fob, and nothing that would add any weight to the key.