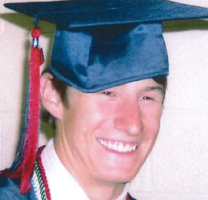 — While much of the media attention has been focused on recalls, investigations and lawsuits over the General Motors defective ignition switch, behind those news topics are real people affected by GM's failures.
By its current count, the automaker estimates 54 accidents and 13 deaths tied to ignition switches that can move out of the "run" position and turn off the engine. Having the engine suddenly shut off at 65 mph can lead to disastrous results, including no power steering, no power brakes and no air bags.
Families and friends of those killed in GM cars are facing the reality that GM knowingly hid the defect from the public for over 10 years. Loved ones have also been reminded of GM's deceptions--sometimes years later--after GM sent recall notices to the family members of people killed because of the defect.
One of those families had a son who drove a 2007 Pontiac G5, one of the cars named as containing the defective ignition switch.
Ben Hair, 20 at the time, was killed when he lost control of his Pontiac G5 and slammed into a tree at 50 mph. The December 2009 accident left no skid marks, involved no other vehicles and left investigators asking why the air bags failed to deploy.
The only child of Gordon and Brenda Hair, Ben was an Eagle Scout at the age of 16, a competitive USA swimmer and had just graduated from Virginia Tech. He was enrolled in pharmacy school when the accident occurred just two miles from his home.
Let The GM Recall Notices Begin
Ben's parents, who travel that road on a regular basis, received a recall notice from GM nine months after Ben was killed. The recall was about a defective power steering unit on the Pontiac G5, so Ben's parents contacted GM and asked the automaker to investigate Ben's crash. Although this was at a time when GM knew about the Pontiac G5 ignition switch, GM refused to investigate any connection to the crash.
According to the family attorney, Jonathan Michaels, GM knew in 2010 that Ben Hair was dead and his Pontiac G5 was in a junkyard. But the power steering recall notices kept coming in. Ben's parents made three trips to GM dealerships to request the recall notices be stopped. Even after filling out forms and talking with GM management, the recall notices kept appearing in the mail box.
January 2014 arrived and the recall notices were still arriving. The constant reminders of Ben's death just two miles from home caused his mother to stop leaving the house. In January 2014, Brenda Hair suffered a stroke which left her paralyzed.
Ben's family filed a wrongful death lawsuit against GM in May 2014 after learning about the defective ignition switch, yet the recall notices kept arriving.
Beginning June 4, the family started receiving two recall notices: one for the power steering defect and one for the ignition switch defect.
Ben's family received another letter from GM on June 6 thinking it was probably a letter of apology for sending the previous notices. Instead, the June 6 letter was another recall notice.
"The company just won't stop," said attorney Jonathan Michaels. "Imagine for a moment receiving constant reminders of how your son died, every couple of months, over the course of four years – and not being able to do anything about it. It is the most inhumane treatment of a customer I can imagine."
Ben's father, Gordon, spends his time caring for his wife and started a foundation in his son's memory, the Benjamin Hair Just Swim for Life Foundation.
Ben Hair's 2007 Pontiac G5