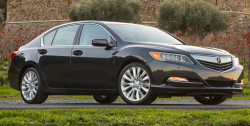 — About 19,500 model year 2014-2015 Acura MDX and RLX cars have what so many other recalled cars have today: software problems. The problems are guaranteed to grow larger as cars are turned into self-driving robots.
In the Acura recall, the automaker says the software problems are in the "collision mitigation braking system," a system in the Acura MDX and RLX which uses a millimeter wave radar to scan traffic conditions ahead. Acura says the defective system can wrongly assume a forward collision is about to occur.
According to the automaker, the system can go haywire if the car comes near metal such as a guard rail or fence. Once the Acura senses a frontal impact is about to occur, the emergency braking system will activate on its own without warning and cause all kinds of trouble with traffic following behind.
Although there have been no reports of accidents or injuries in the U.S., one crash in Japan has been attributed to the defect.
Acura hasn't announced the exact date when the recall will begin, but owners should watch for mailed notifications in June. Acura dealers will update the software that runs the collision mitigation braking system.
Owners of the 2014-2015 Acura MDX and RLX who have questions should call the automaker at 800-382-2238 and choose option 4.