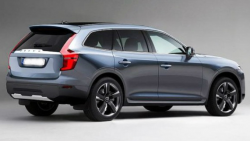 — Volvo is recalling the 2016 Volvo XC90 luxury SUV for the second time in two months, both recalls related to airbag problems. The automaker says almost 4,000 model year 2016 XC90 SUVs have side inflatable curtain airbags that can fail to fully inflate in a crash.
The recalled SUVs are equipped with seven seats and have inflatable curtain airbags that can fail to protect passengers in the third row. Volvo says the airbags can fail to deploy in a crash because the interior trim panel on the D-pillar can block the side curtain airbag.
Volvo discovered the problem on July 1, 2015, when a testing facility reported the failure of the inflatable curtain airbag in a XC90.
By the end of July, the automaker concluded there was a conflict between the D-pillar panel and the inflatable curtain airbag.
On August 4, a delivery stop order was sent to Volvo dealers and days later the automaker issued the recall.
The recalled Volvo cars were manufactured January 27, 2015, to July 10, 2015.
The Volvo XC90 recall will begin September 14, 2015. Dealers will modify the interior D-pillar panels to allow the inflatable curtain airbags to fully inflate.
Owners of the XC90 may contact Volvo customer service at 201-768-7300.
Less than two months ago, the 2016 Volvo XC90 was recalled to fix problems with wiring connected to the front side-impact airbags.