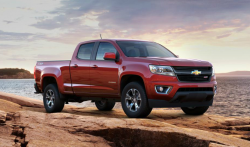 — General Motors is recalling almost 3,000 trucks that can lose power steering while driving. Included are the 2015 Chevrolet Colorado and 2015 GMC Canyon that have problems in the steering gear connectors.
GM says the power steering assist can be lost at any time to cause the steering to revert back to manual mode. The problem can be serious because losing power steering while traveling at a slow speed or around a curve can be a safety hazard.
A GM engineer discovered the problem in May 2015 based on claims for loss of power steering assist in the trucks. Three months later GM opened an internal investigation based on the belief the problem wasn't too serious and involved only an intermittent loss of power steering where the truck reverted to manual steering.
It was determined the supplier of the steering gear assembly had modified test equipment to repair a pin that could damage electrical connectors in the steering gear assembly connector. Engineers say high rates of warranty claims and returns of steering gear assemblies are all related to damaged electrical connectors.
Although the automaker couldn't locate any accidents or injuries related to the power steering, it appears the problem can occur more frequently than first believed.
General Motors doesn't know when the Chevy Colorado and GMC Canyon power steering recall will begin, but dealers will eventually replace the steering gear pinion sensor cover assembly.
Owners of the 2015 Chevrolet Colorado can call 800-222-1020 and GMC Canyon owners can call 800-462-8782. GM's number for this recall is 15595.
CarComplaints.com has owner-reported complaints about the Chevy Colorado and the GMC Canyon.