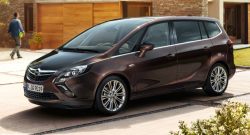 — Based on published media reports in Germany, General Motors' European Opel vehicles are equipped with illegal "defeat devices" used to fool official emissions test machines.
The German magazine Spiegel claims TÜV Nord, a German testing and certification company, found the defeat devices in Opel vehicles sold outside the U.S.
According to Spiegel, it's very similar to the Volkswagen scandal as Opel vehicles emit more nitrogen oxides than allowed by law. Spiegel specifically says the exhaust gas treatment in Opel cars cause emissions to be severely limited or completely turned off.
GM says it is doing what all automakers do, that is, taking advantage of legal loopholes which allow software to turn off exhaust treatment at certain temperatures to protect the catalytic converter from damage. Opel pointed to its Zafira diesel-powered vehicle as an example by saying exhaust treatment would be fully operational only in specific temperature ranges.
According to the German report, the emissions exhaust treatment is turned off when the vehicle travels faster than 90 mph, runs above 2,400 rpm and when the barometric pressure indicates an elevation above 2,700 feet.
GM responded to the Spiegel story by saying Opel does "not deploy any software that recognizes whether a car is undergoing an exhaust emissions test."
The automaker goes on to reference various German tests that concluded Volkswagen was the only automaker found to use a defeat device and how Opel fully cooperated with German authorities. GM also says its software used on Opel vehicles was never designed to cheat or deceive emissions tests.
General Motors further said German media who released the information hadn't shared any alleged methods or protocols they used, something that doesn't allow the automaker to evaluate the claims. Additionally, GM says it doesn't believe the German media results are objective or founded on science.
Saying tailpipe emissions control systems are complicated, Opel says previous official tests clearly show the differences between emissions results from a lab-based setting compared to tests conducted during real-world driving. Current law includes results only for lab-based tests, but that will change in 2017 when real-world tests will be conducted.