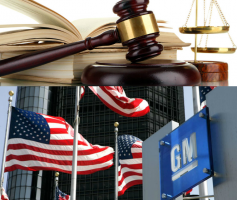 — General Motors is once again in court to defend itself against claims that an ignition switch moved out of the "run" position and caused injuries in an accident.
The New York trial is underway after the first so-called bellwether ignition switch trial ended after the plaintiff was caught lying in court. That trial came to a close when the judge heard enough and told both parties to settle the case and get it out of his courtroom.
GM hid the ignition switch defects for over 10 years while consumers were killed and injured in accidents that were later attributed to the faulty switches.
More than 30 million GM vehicles have been recalled to replace ignition switches that can suddenly move out of the "run" position and move to the "accessory" or "off" position. A simple bump in the road or a heavy key ring can cause the switch to move. Drivers quickly find the power steering and power brakes gone and in some cases, the ability of the airbags to deploy is lost.
The Saturn Sky Crash Case
U.S. District Judge Jesse M. Furman is now hearing evidence concerning a January 2014 crash in New Orleans that involved two people in a 2007 Saturn Sky. Plaintiffs Dionne Spain and Lawrence Barthelemy say GM is responsible for the accident because the automaker ignored the ignition switch defects for 10 years.
The accident occurred while driving the Sky on the Crescent City Connection Bridge in New Orleans. The lawsuit alleges the switch is what caused the car to crash, but GM will allegedly use police reports that say at least 35 other cars crashed that night because of ice on the bridge.
In addition, the automaker says the crash wasn't much of a crash based on damage to the Saturn that showed scrapes on a bumper but not one dent anywhere.
Spain and Barthelemy want GM to pay damages for the cost of medical care they endured because of the accident, but GM argues the accident caused only minor aches and pains and the couple didn't suffer any permanent injuries.
"Sometimes, accidents just happen," Mike Brock, a lawyer for GM, told the jury.
1,700 Ignition Switch Cases in the Queue
The case, Barthelemy, et al. v. General Motors LLC, will be used to understand how to proceed concerning another 1,700 cases filed for injury and wrongful death claims.
The automaker has already paid large sums of money to settle previous lawsuits from consumers and investors. GM settled two separate cases for $575 million concerning 1,385 death and injury claims and a shareholder suit.
In addition, GM's compensation fund paid out $595 million to resolve claims for 124 deaths and 275 injuries caused by the defective ignition switches.