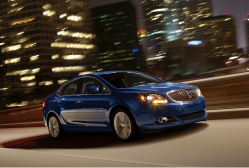 — General Motors is recalling 7,620 Buick, Chevy and GMC vehicles at risk of rolling away. GM says the recalled vehicles include the following:
2016-2017 Buick Verano
2016 Chevrolet Malibu
2013 Buick Encore
2011 Buick Regal
2013-2014 Buick Verano
2011-2016 Chevrolet Cruze
2010-2013 Chevrolet Equinox
2013-2015 Chevrolet Malibu
2011-2013 GMC Terrain
GM says the electronic park lock lever may allow the ignition key to be removed without the transmission in PARK. A car could easily roll away once the driver exits the vehicle.
In May, a GM employee reported two model year 2016 Buick Verano cars failed quality inspections at a Michigan plant. Both failed inspections occurred because the employee could remove the key from the ignition switch with the vehicle's engine running and the transmission out of PARK.
A hold was put on shipping new Chevrolet Malibu and Buick Verano cars until an investigation could be competed.
The automaker found 29 more incidents identical to what was originally found by the employee. GM then determined more models were affected, all that had been serviced with damaged electronic PARK lock levers as replacement equipment.
General Motors doesn't know when the recall will begin, but dealers will need to replace the key cylinder lock housings in the cars.
Owners may contact Chevrolet at 800-222-1020, Buick at 800-521-7300 and GMC at 800-462-8782. GM's recall numbers are 50490 and 50491.
Read what owners have told CarComplaints.com about the vehicles named in the rollaway recall: