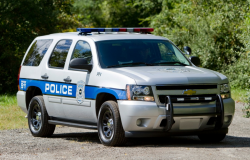 — General Motors is recalling nearly 50,000 police vehicles at risk of fires from short circuits inside the engine cooling fans. GM says 2010-2014 Chevrolet Tahoe Police Pursuit SUVs have under-hood cooling fans with wiring that can corrode from water intrusion.
Engineers determined corrosion of wiring can cause a short-circuit inside the fan motor and create temperatures so high a fire could break out in the engine compartment.
The passenger-side of the SUVs will likely be where the problem occurs, and for police vehicles a short-circuit like this can be bad news because of how those vehicles are used.
Police vehicles typically are left running when consumer vehicles would be shut off, making fires more likely due to overheating inside the fan motors that constantly run.
GM says the supplier of the fan motors is the Robert Bosch company, the same company facing tough questions in the Volkswagen emissions scandal.
The 2010-2014 Chevrolet Tahoe Police Pursuit SUVs were built August 24, 2009, to December 1, 2013.
General Motors doesn't know when the Chevrolet Tahoe recall will begin. Dealers are expected to replace the fan motor and shroud, extend the wiring and move the fan motor to reduce the risk of corrosion.
Owners of 2010-2014 Chevrolet Tahoe Police Pursuit SUVs may contact Chevy at 800-222-1020 and use GM's recall number 16145.