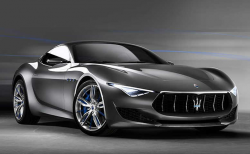 — Maserati is recalling over 28,000 cars with floor mats that can cause possible unintended acceleration events. The 2014-2016 Maserati Quattroporte and Ghibli have driver-side floor mat anchors that may break and cause the floor mats to move out of place.
A floor mat that moves out of position can easily get trapped between the carpet and gas pedal, leading to a wide-open throttle and possible unintended acceleration.
Maserati opened an internal investigation in February 2015 after receiving four reports about gas pedals stuck wide open while the owners were driving. In each of the four events, the brake override system did its job and disabled the acceleration event as designed, with no accidents or injuries reported.
The first analysis of the claims indicated a potential pedal entrapment issue due to a driver-side floor mat which was not properly attached or had broken anchors, which caused the mat to slide forward toward the accelerator pedal.
Maserati discovered repeated exits of the driver from the car kept forcing the unattached floor mat further forward, toward the gas pedal.
The automaker modified the floor mats in May 2015, making the mats stay in place even if the anchors broke. Then in December 2015, the gas pedal cover was modified to increase the clearance between the gas pedal and floor mat.
The Maserati recall should begin at the end of April 2016. Dealerships will replace the driver-side floor mat and possibly the accelerator pedal cover.
Owners of the 2014-2016 Maserati Quattroporte and Ghibli may call the automaker at 201-816-2600 and use recall number 301.
Maserati has made the recall news quite a few times in the past months, especially considering the expensive nature of the cars.
In January 2016, the automaker recalled the 2016 Maserati GranTurismo to fix problems related to possible fires from gas leaks, a recall announced about a month after the GranTurismo was recalled for door latch problems.
Then in October 2015, the $140,000 Maserati Quattroporte GTS was recalled due to a risk of fire.