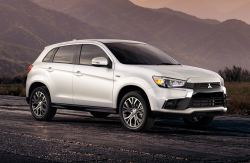 — Mitsubishi Outlander Sports are recalled so the automaker doesn't experience any problems with lift gates falling on someone's head or other parts of the body.
Mitsubishi says more than 50,200 model year 2011-2012 Outlander Sports and 2016 Outlander Sport SUVs need the lift gate supports replaced.
Mitsubishi says the supplier, Showa Corporation, may not have applied enough anti-corrosion treatment to the outer tubes of the lift gate gas springs.
The lift gate gas spring provides lifting assistance for the lift gate by using high pressure gas. The outer tube can corrode due to salt and water and cause the gas spring to lose pressure if the tube doesn't have enough corrosion protection.
The automaker learned from the supplier in January 2016 about a different automaker that used similar lift gate gas springs that had broken off due to corrosion of the outer tube.
Mitsubishi says it never identified a similar corrosion problem on its own vehicles involving gas springs and says it doesn't know of any real-world failures. But the automaker wants to make sure the problem doesn't occur to its vehicles, so the decision was made to recall the SUVs.
The recalled 2011-2012 Outlander Sports were manufactured between August 26, 2010, and June 1, 2012, and the 2016 Outlander Sports were built January 11, 2016, to July 8, 2016.
Mitsubishi has no idea when the lift gate gas spring recall will begin, but dealers will need to replace those parts in case corrosion has damaged the supports.
Affected Mitsubishi Outlander Sport owners may call the automaker at 888-648-7820 and refer to recall number SR-16-011.
Read complaints sent to CarComplaints.com about the Mitsubishi Outlander Sport SUVs named in the lift gate recall: