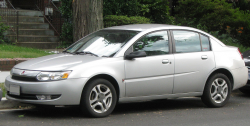 — A lawsuit filed against General Motors alleges a Saturn Ion owner hanged himself after he was blamed for a fatal crash that was allegedly caused by a defective ignition switch.
On July 16, 2012, Denis Herndon, 36, was driving a 2003 Saturn Ion on Big Bear Boulevard in Big Bear Lake, California, when his Saturn went off the road, hit a group of trees and landed upside down in a pond. The crash killed his passenger, 22-year-old David Aroian, and left Herndon with a seizure condition.
Knowing he had been drunk but also claiming it wasn't why he crashed, Herndon pleaded guilty to vehicular manslaughter and was sentenced to six years in prison.
Herndon kept insisting that although he was drunk at the time of the crash, he clearly remembered his Saturn Ion completely shutting off, causing him to lose control and crash into the water. By all accounts, Herndon was a broken man in prison and terrified due to his problems with seizures.
However, what he believed was a ray of hope arrived in the mail in October 2014 when GM sent a recall notice for the 2003 Saturn Ion. The notice concerned a defective ignition switch that caused symptoms exactly matching what Herndon said occurred to his car the night of the crash. It also explained why the airbags didn't deploy in the crash.
Herndon believed the recall notice would prove the ignition switch caused the crash, something that could possibly get him released from prison. As time passed and no positive results had occurred because of the recall, Herndon committed suicide by hanging himself in his cell on August 8, 2015.
The wrongful death lawsuit against GM was filed by Kenneth Herndon, father of Denis Herndon, for damages related to the injuries, pain and suffering Denis suffered before his death, in addition to wrongful death.
An attorney for Mr. Herndon said the car's event data recorder (black box) tells the story of what really caused the crash.
Adam P. Slater, of Slater Slater Schulman, told CarComplaints.com the evidence is clear the Saturn Ion ignition switch was off before the crash, therefore causing the crash. With the ignition switch off, all power to the car would have been lost.
"When we got the event recorder data it showed he clearly did not cause this accident," Slater said. "There was no event recorded of the crash, no event at all."
An event data recorder is used to record information related to accidents so investigators can better know what the car was experiencing before, during and after a crash. Although Denis Herndon's Saturn Ion is now destroyed, Mr. Slater says they fortunately have the data from the car's recorder because the information was downloaded prior to the car being destroyed.
"The black box, if the power was on, would have picked up either a deployment event or a non-deployment event. The fact there is no event on there means that the car was turned off," said Slater. "That's proof positive the switch was off."
General Motors admits to covering up ignition switch defects for at least 10 years with many of those defects causing accidents, injuries and deaths.
A compensation fund created by the automaker paid out $595 million as compensation for 124 deaths and 275 injuries related to the switches. Additionally, hundreds of lawsuits were filed against the automaker, some of those cases involving GM owners who were charged and convicted of offenses related to crashes of GM vehicles.
One such case involves LaKisha Ward-Green, who was driving a 2007 Chevy Cobalt on September 3, 2010, when the Cobalt slammed into a school bus and a utility pole, killing 16-year-old passenger Robert Chambers.
In 2012, Ward-Green pleaded guilty to reckless driving and involuntary manslaughter in the death of Chambers. Ward-Green served three months in jail when her attorneys filed an appeal based on GM's public admission of selling cars with defective ignition switches.
Her attorney argued the Cobalt ignition switch moved out of the "run" position and caused the car to lose power steering, power brakes and importantly, the airbags didn't deploy in the crash.
Based on the new evidence of GM's defective ignition switches, Pennsylvania Court of Common Pleas' Judge Philip Anthony Ignelzi overturned the reckless driving and involuntary manslaughter convictions against Ward-Green.
Another case that made the news was that of Candice Anderson, who spent years believing she was responsible for the death of her fiance. Gene Erickson, 25, was killed when Anderson's 2004 Saturn Ion crashed head-on into a group of trees.
Anderson, 21 at the time, believed she was to blame and pleaded guilty to criminal negligent homicide. She was ordered to pay for Erickson's funeral, perform 260 hours of community service, pay $3,500 in court costs and was sentenced to 5 years of deferred punishment.
However, in November 2014, Anderson was cleared of all charges after Texas authorities said they would have never charged her with a crime if they would have known about the defective GM ignition switch.
The case of Denis Herndon awaits trial in New York as do hundreds of other lawsuits against General Motors over its ignition switches.