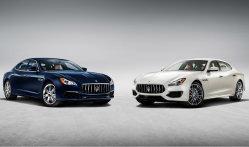 — Maserati is recalling more than 50,000 cars in two recalls to fix problems that can cause fires.
Maserati Quattroporte, Ghibli and Levante Recall
Maserati is recalling more than 39,300 cars after at least one car fire was reported. Recalled are 2014-2017 Quattroporte, Ghibli, and Levante cars with front seats that can rub against wiring and cause electrical shorts and fires.
In December 2015, Maserati opened an investigation due to a report from Korea about a left-hand seat harness that had been damaged because of contact with the seat motor assembly. The customer complained about not being able to adjust the seat in the vertical position, and supplier Lear confirmed the problem was caused by contact between the seat wiring harness and the seat tilt motor assembly.
By the start of 2016, Maserati had received more claims about the same problems with nine front seat harnesses, so Lear started adding adhesive felt onto the seat motor housing to fix the problem.
Then came another report, but this one involved a car fire caused by the problem. Lear used new data and introduced a clamping strip to avoid direct contact between the seat motor and wiring harness. But that fix apparently didn't work because Maserati received another complaint about a car that had the latest repairs.
The automaker and Lear finally decided on using a different layout for the wiring harness, something that seems to have fixed the problem.
The recall should begin March 21, 2017, when Maserati dealers will install new seat wiring harness layouts that include routing and securing the harnesses.
Owners of the recalled Quattroporte, Ghibli, and Levante cars may contact Maserati at 201-510-2369 and use recall number 342.
Maserati Quattroporte and Ghibli Recall
Maserati is recalling nearly 11,000 model year 2014-2015 Quattroporte and Ghibli cars with fuel lines that may leak fuel.
Maserati opened an investigation in February 2016 after seven complaints about gas leaks, prompting the automaker to contact Dytech, the supplier of the fuel lines. By March the supplier reported the problems were possibly caused by errors that occurred during assembly.
However, Maserati decided more investigation was needed and then determined potential fuel leaks may occur at any location along the fuel line due to foreign particles between the metal fuel line and plastic fuel line.
The problem was caused by the supplier's insufficient cleaning process of the fuel line, causing scratches on the plastic fuel line.
Leaking fuel can cause many problems for car occupants, namely the danger of fires if the gas hits an ignition source.
Maserati dealers will need to install new fuel lines, so owners should watch for recall notices toward the end of February.
If you own a 2014-2015 Maserati Quattroporte or Ghibli and need more information, call the automaker at 201-510-2369. Maserati's number for this recall is 339.
CarComplaints.com has owner-reported complaints about Maserati vehicles.