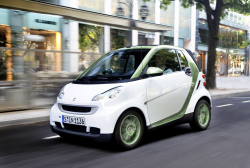 — A smart fortwo fire investigation has been upgraded after the government learned of more fires that occurred in the minicars manufactured by Mercedes-Benz.
The National Highway Traffic Safety Administration (NHTSA) opened the original investigation in December 2016 after receiving eight complaints about engine fires while driving or shortly after shutting off the engines in 2008-2009 smart fortwo cars.
Safety regulators say they noticed an increasing trend in reports made by owners to NHTSA and directly to Mercedes.
As part of the investigation, NHTSA gathered data from customers, the automaker and from the Institute for Highway Safety (IIHS), and none of the data looks good.
What started with eight known fire complaints has turned into 27 reports of smart fortwo fires that originated in the engine compartments, with one report alleging a consumer suffered from smoke inhalation.
However, Mercedes doesn't seem too concerned with the fires because the automaker has investigated only two of the 27 car fire reports and couldn't find a cause for the flames.
NHTSA wanted to know more about the smart fortwo fires and requested information from the Insurance Institute for Highway Safety to compare the fire claim rates for vehicles similar to the fortwo minicars.
IIHS is a good source because the agency collects insurance claim data from companies representing over 80 percent of the market for passenger vehicle insurance.
Safety regulators discovered 2008 fortwo cars had much higher claim rates than similar cars, and the fire claims increased starting in 2015. Owners complain their cars burst into flames while driving and while parked, in some cases long after the cars are parked.
"I was on my way home from work and looked in my rear view mirror and saw smoke. I pulled over to the side of the road only to find my car was beginning to be engulfed in flames. There was no warning, no previous work done on the car...Nothing! The fire department wrote up a report and determined that the fire started in the engine area."
"I was in an office building when I a city fire marshal came in and informed me my car was on fire in the parking lot. I found this to be very hard to believe as it had been parked for over an hour and one half. The fire dept. had broken my passenger side window, opened the car and sprayed it with chemicals. I was informed the fire had started from wires in the engine compartment."
"We drove about 12 miles to a friends, parked in driveway, went inside to visit. In 10-15 minutes was a knock on the door by a neighbor who said "Your car is on fire". We called 911, emptied a fire extinguisher to no avail."
The smart fortwo fire investigation will determine what is causing the engine compartment fires and if the cars need to be recalled.