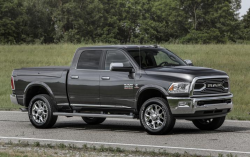 — Ram 2500 steering linkage problems are under federal investigation after reports that drivers completely lost the ability to steer the trucks.
The National Highway Traffic Safety Administration (NHTSA) says 2015-2016 Ram 2500 four-wheel-drive trucks may have trouble with the drag links.
According to NHTSA, the drag link is a steering linkage that connects the right front steering knuckle and the pitman arm on the steering box output shaft.
Two Ram 2500 drivers claim they lost the ability to steer the trucks, both times while the vehicles were in motion. In one case, the driver was traveling 65-70 mph on a highway when the steering linkage separated as the truck was going around a left turn.
The driver said there was no way to steer the Ram 2500 as it went off the right side of the highway onto a rough shoulder area. According to the government, the shoulder was so rough the driver was allegedly injured.
Another 2500 driver says the linkage separated while the truck was backing out of a parking space and turning the steering wheel had no effect.
The separations occurred at the threaded couplers within the linkages that are intended to be used for adjusting the linkage lengths during alignments. In both cases, the drag links and couplers had to be replaced for drivers to steer the trucks.
About 200,000 model year 2015-2016 Ram 2500 four-wheel-drive trucks are the focus of the investigation.
CarComplaints.com will update our website with results of the federal investigation.
Read what drivers complain about with the 2015 Ram 2500 and 2016 Ram 2500.