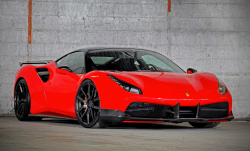 — Ferrari fuel vapor separator problems have caused a recall of more than 2,150 vehicles to prevent fuel leaks and fires.
2017 Ferrari LaFerrari Aperta
2018-2019 Ferrari 488 GTB
2018-2019 Ferrari GTC4Lusso T
2018-2019 Ferrari GTC4Lusso
2018-2019 Ferrari 488 Spider
2018-2019 Ferrari 812 Superfast
2019 Ferrari 488 Pista
Ferrari says the plastic weld in the fuel vapor separator may crack due to problems during manufacturing. Fuel may leak and hit an ignition source, but owners may have a little warning by the illumination of the check engine light. In addition, a message will appear telling drivers to get the cars to dealerships.
The recall is expected to begin April 14, 2019, when Ferrari dealerships will replace the fuel vapor separators to prevent fuel leaks.
Owners may contact Ferrari at 201-816-2668 and use recall number 69.
In a separate and smaller recall, the automaker is recalling 583 model year Ferrari 2017-2019 GTC4Lusso and 2018-2019 Ferrari GTC4Lusso T vehicles to repair doors that may refuse to open from the outside using the door handles.
The problem occurs due to tension on the door lock mechanism that will result in failures of the outside door handles. Not only will this prevent a consumer from opening the door, but first responders won't be able to open the door from the outside in the event of an emergency.
Ferrari dealers will install new cables and door locks when the recall begins April 14, 2019.
Ferrari GTC4Lusso and GTC4Lusso T customers with questions should call 201-816-2668. Ferrari's number for this recall is 67.