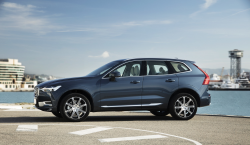 — A Volvo XC60 and S90 recall includes nearly 2,300 vehicles that may be missing the front seat rail rear flange nuts, a problem that could cause structural problems with the front driver-side and passenger-side seats.
The front seats in the 2018-2019 Volvo XC60s and S90s may also move out of position in crashes if the flange nuts are missing.
Volvo learned of the problem in March 2019 when supplier Brose contacted the automaker and said there were production problems during a specific time period.
The automaker considers the problem "critical" because Volvo occupants won't have any warning the seats may not hold in crash impacts.
The recall is expected to begin May 17, 2019, when Volvo dealerships will inspect the front seat rails and install any missing seat flange nuts.
Volvo XC60 and S90 owners who have questions should call the automaker at 800-458-1552 and refer to recall number R19931.