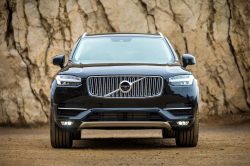 — Volvo is recalling nearly 37,000 XC90 SUVs in the U.S. and Canada over concerns leaking coolant could cause fires while the SUVs are stationary.
Recalled are 2016 Volvo XC90s with engine coolant bleeder hoses that may crack and leak due to heat and humidity. The coolant can build up in the catalytic converter heat shield insulation and catch fire.
Volvo received five engine fire reports in September 2018 as investigators discovered melted components but couldn't find a clear cause for the fires. Volvo then shipped an affected engine to the engine plant in Sweden as another fire was reported.
Another XC90 caught fire in November and three more fires were reported in December 2018, but engineers still hadn't determined what was causing the fires.
Volvo checked the gas hoses and found no problems as three more SUVs experienced engine fires.
The automaker finally determined coolant could reach the catalytic converter because of degraded coolant bleeder hoses located in engine compartments.
Volvo says it doesn't know of any crashes or injuries related to the leaking hoses.
More than 34,000 of the recalled SUVs are in the U.S. and more than 2,700 are recalled in Canada.
The 2016 Volvo XC90 recall is expected to begin June 14, 2019, when dealers will replace the coolant bleeder hoses.
Customers with questions should call 800-458-1552 and ask about recall number R29936.
CarComplaints.com has complaints about 2016 Volvo XC90s.